WIN GETS THE SWEATY SMELL
OUT OF YOUR WORKOUT CLOTHES
PEOPLE WHO USE WIN LOVE WIN
PEOPLE LOVE WIN
People who discover WIN often wonder what they ever did without it.
Whether you sweat indoors or outdoors, whether you're running or cycling, spinning or practicing yoga or doing cardio, whether your teen plays soccer or football or lacrosse or tennis, WIN helps you get noticed for how you look and what you do, not how you smell.
WAIT, THERE'S MORE THAN ONE KIND?
BLUE
THE ORIGINAL, SCENTED VERSION ADORED BY tens of THOUSANDS
Blue is by far our most popular version, and is the version we recommend to anyone who has not tried WIN before. Blue leaves a light, fresh scent on your workout gear that you'll quickly associate with getting ready to work out.
GREEN
Dye Free and Fragrance free for people with sensitive skin or noses
WIN Green is dye free and fragrance free for sensitive skin. It is also formulated with more sustainable ingredients, and meets the standards for the EPA's Safer Choices standards. Green cleans just as effectively as blue, but is preferred by people who want to avoid the scent.
BUY ONLINE
Purchase through amazon

 
Color
Quantity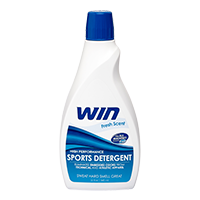 REQUEST A SAMPLE
Get A single wash bottle of WIN for just $3.00 including shipping. You'll also get a coupon good for $1.00 off your first 32 oz bottle.